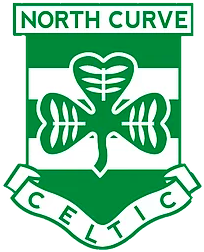 What is North Curve Celtic?
North Curve Celtic is a fan collective which currently represents over 1000 Celtic fans within the Standing Section (North Curve) at Celtic Park.
Why was North Curve Celtic formed?
The initiative was introduced by the Green Brigade for season 2016/17 with the main objective of building a united fan front for the Standing Section.
For a variety of reasons, the Green Brigade is notoriously difficult for fans to join and can also be pretty divisive. North Curve Celtic provides an alternative platform for all fans who want to contribute more to the matchday atmosphere and have a say on fan issues without necessarily subscribing to the Green Brigade.
Is North Curve Celtic just the Green Brigade?
Although closely linked, North Curve Celtic is a separate entity to the Green Brigade. While the Green Brigade is an ultras group, North Curve Celtic is a collective open to all fans within the Standing Section. Naturally, the Green Brigade plays an active role within North Curve Celtic however all members of North Curve Celtic have the opportunity to help organise, shape and achieve our objectives.
What are the objectives of North Curve Celtic?
Encourage a vibrant matchday atmosphere in the North Curve through colour and noise
Build a community spirit in the North Curve with fans feeling pride and attachment to their area and each other
Contribute to social and charitable projects in line with the founding values of Celtic
Have a strong, unified voice within Celtic Park on fan issues, especially those concerning the North Curve
Can anyone join North Curve Celtic?


Anybody with a season ticket within the Standing Section is encouraged to join and every year our membership grows. There are no criteria beyond being a season ticket holder within the North Curve.
Why should I join North Curve Celtic?
By joining North Curve Celtic, you strengthen the influence of the collective when it comes to creating a positive, vibrant atmosphere not just at Celtic Park but on the road.
You have the opportunity to join us on the road by joining our away registration and forming sections at away grounds where we'll recreate the same vibrancy now synonymous with Celtic Park's Standing Section.
Your membership fee goes towards flags, banners and tifos. For example, North Curve Celtic members have part-funded iconic tifos like the Lisbon Lions 50th Anniversary full-stadium tifo; the Billy McNeil and Stevie Chalmers Hampden tifo and more.
You have your chance to influence fan issues, particularly those concerning your area of Celtic Park which ultimately affect your matchday experience. As most will know, the Standing Section has been under scrutiny since its introduction and NCC reps have been effective in defending the area, working together with club officials on pragmatic safety measures and been successful in fending off unnecessary, intrusive measures.
What do I get from joining North Curve Celtic?
As well as the above, you will receive an exclusive member's scarf and membership card.
You will have access to exclusive North Curve Celtic merchandise, events and information which are restricted to members only.
You will have exclusive access to tifo setups and flag/banner productions.
You have exclusive access to a private, members-only platform where issues concerning the North Curve can be discussed, important information can be shared, and decisions can be agreed.
What's changing with North Curve Celtic?
We are determined to improve the overall members experience and have various ideas to help with this.
Each season we will commit to:
At least two North Curve Celtic members meetings per season
At least two North Curve Celtic tifos per season
At least two North Curve Celtic charity/social projects per season
Annual North Curve Celtic members survey
How do I join North Curve Celtic?


Sign up tables will be at the bottom of the stairs at Area 111 (beside NCC logo mural) inside Celtic Park. Membership costs just £10 per season.
How do I keep up to date?
Three members meetings per season
Exclusive, private members platform – access provided after registration
Email updates
Twitter: @ncceltic
Podcast: North Curve Celtic (Apple, Soundcloud and Spotify)
Directly by email: [email protected]